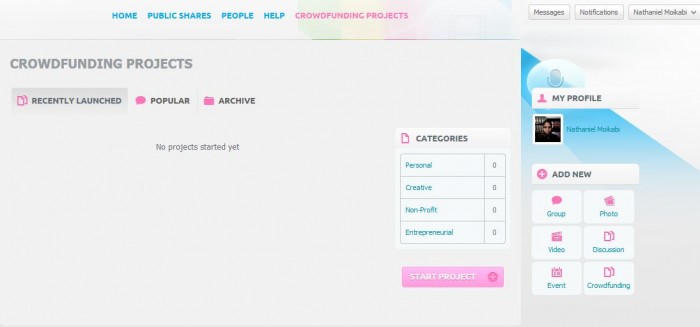 Ramotswa
Hello,
My name is Nathaniel Moikabi and I'm working a Social Crowdfunding Network called Chatterclub Evo. I would like a chance to share the Chatterclub Evo dream with the world and get people to help me build it as it will benefit us all and change our world for the better by helping those in need of funds raise them faster and smart.
Looking forward to hearing from you.
Regards
Nathaniel Moikabi
http://prefundia.com/projects/view/chatterclub-evo...
Chatterclub Evo is a combination of social network and crowdfunding portal. In short it cuts the gap between the social network and the crowdfunding portal, but what it really doe is connect people, then help them grow themselves through guidnce, business tools and crowdfunding. Chatterclub Evo is being to solve problems me and other people around have had while while trying to connect with people who can help us with our p\rojects and the problems we experienced when tring to raise funds. Chatterclub is a very long term project that will in the future make it easy to raise fund and connect with people who can help you grow. Chatterclub will be a Social-Crowdfunding Bridge ( A central API that connect one social networks to crowdfunding portals, social networks to social networks and crowdfunding portals to crowdfunding portals. Thank you for you time.
Interaction Chanel
Website: http://chatterclub.info
Twitter: https://twitter.com/chatterclubevo
Facebook: https://www.facebook.com/Chatterclub
Google Plus: https://plus.google.com/+ChatterclubWs