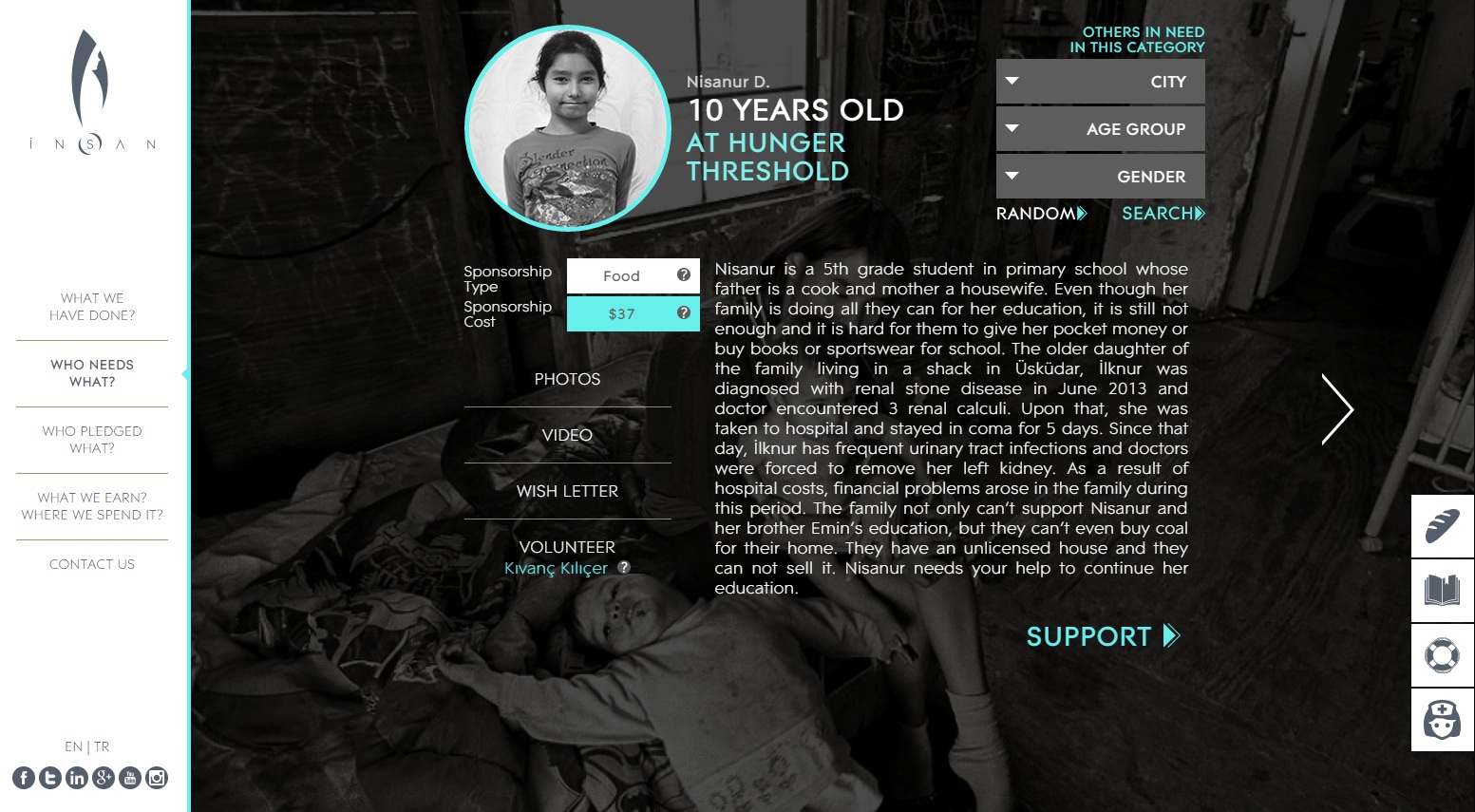 U.S
INSAN is a non-profit organisation based on 1-on-1 sponsorship for children in need. INSAN's tech allows potential sponsors to find the child they are willing to support.
DO YOU HAVE A GOOD REASON TO NOT SPONSOR A CHILD RIGHT AWAY TODAY?
Founded by a well educated team with well developed organisational skills, INSAN (meaning Human) project was brought to life as A FRESH IDEA AND A FRESH BREATH OF AIR WITH ITS ANALYTICAL AND TRANSPARENT SYSTEM
INSAN's system is based on reaching and sharing the stories of underprivileged children around the world who are in need of immediate attention, to potential sponsors who would support them. Establishing long-lasting relationships between the sponsors and the children is the main base of INSAN. The children in need are classified into 4 main categories:
a) Poverty at hunger threshold,
b) Inability to obtain education as a result of forced labor,
c) In need of care or severely handicapped,
d) Children with potential to be reintegrated into society who have fallen behind due to financial hardships.
Analysis of past experiences in this field that have led to a lack of trust, brought about some of the key characteristics of HUMAN that makes it different.
Those are:
1) Sponsors are able to select the child they would like to support directly from www.insaninternational.org and access detailed information on the child down to their photos and videos
2) Unlike traditional sponsorship, our sponsorship system is 100% transparent and sponsors can see which child is receiving their funds and all financial data of HUMAN project is provided on the website in a well comprehendible manner on a monthly basis
3) Extended efforts to not just make this a one-time transaction but establish a long-lasting relationship between the child and the sponsor. For instance, sponsors are kept well informed of the day their sponsored child first starts the school to the day they receive their grade sheets or any important milestones in their lives.
4) Parents of the children are first interviewed and pre-screened and only those that are in need of immediate attention and those that are under a certain level of income are accepted.
To start a long-lasting relationship with a child in need right now:
https://www.youtube.com/watch?v=Vv0d48QK0Ko
Interaction Chanel
Website: http://www.insaninternational.org/
Twitter: https://twitter.com/insan_int
Facebook: https://www.facebook.com/insan.int
Google Plus: https://plus.google.com/107025467785285468382/posts