Please consider REVE Chat for editorial review
Monday, September 12, 2016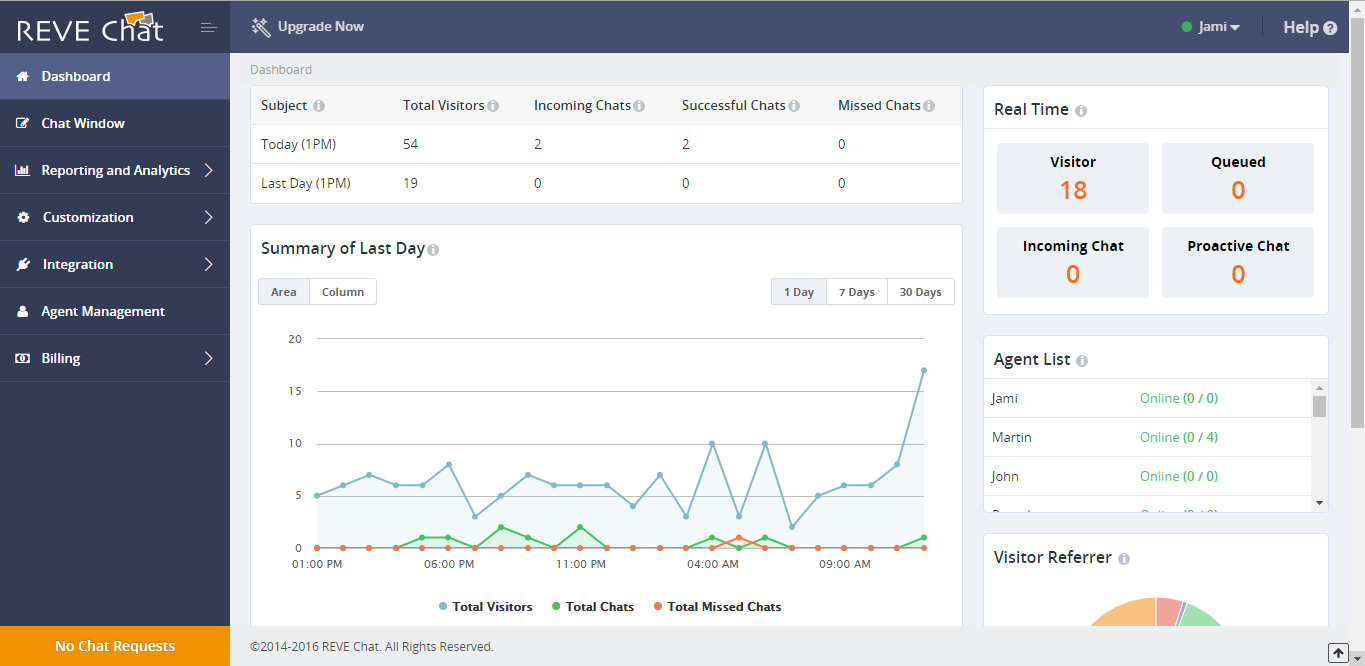 Singapore
REVE Chat is a cloud based multi channel live chat platform that helps websites to connect with their visitors in real time and thus helps businesses to provide instant engagement, customer support, build brand loyalty and generate more sales online
REVE Group, a leading Software & Communication solution provider today announced the launch of REVE Chat, a cloud based multi-channel live chat platform that enables online businesses to connect with their customers in real-time. As a website engagement software, it helps to offer instant assistance to the website visitors, get customer feedback, improve sales conversions and build brand loyalty.
Most of the businesses do not get the chance to connect with their website visitors in real time and hence lose the opportunity to engage with their potential customers. To fulfill this gap, REVE Chat offers several advanced features like Live Chat, Voice Calls, Video Chat, Facebook Chat Integration and Proactive Chat. Other features like Queuing, Visitor Analytics, Advanced Routing, Real Time Chat Monitoring, make REVE Chat a complete customer engagement software for online businesses. It can be integrated with other popular platforms like WordPress, Joomla, Shopify, Magento and Prestashop.
"REVE Chat offers live voice calls and video chat, directly through browser, using WebRTC technology", said Mr. M Rezaul Hassan, Group CEO, REVE Group. He further added, "As a cloud based service, REVE Chat is being used by some of the leading telecom operators and other E-Commerce businesses for increasing website engagement and building relationships with their customers. They have found it tremendously useful to build customer centric approach across various teams"
Adding REVE Chat on website enables companies to connect with their customers, give a voice to their brands and build meaningful relationships with website visitors. REVE Chat helps organizations to build their brand presence with better customer service, instant customer engagement and reduce service costs.
REVE Chat is easy to setup and takes few minutes to be integrated with any website. It offers 14 days FREE TRIAL with all available features so that businesses can understand its benefits and purchase the plan according to features they need.
Sign up for the 14-days FREE TRIAL
Visit https://www.revechat.com/ to know more about REVE Chat and its features.
For more information or media queries, mail us at [email protected]
About REVE Chat:
REVE Chat is part of REVE Group, Singapore based technology group known for its cloud software solutions, telecom software and cyber security products. REVE Chat is a cloud based multi channel live chat solution to help businesses with better online sales and instant support..
Mr. Ronak Shah I REVE Chat
(+65) 3157 5040 I [email protected]
www.revechat.com
Interaction Chanel
Website: https://www.revechat.com/
Twitter: https://twitter.com/REVEChat
Facebook: https://www.facebook.com/REVEChatSolutions
Google Plus: https://plus.google.com/100056690995816219014