Liberal.Love community launch press release
Monday, December 12, 2016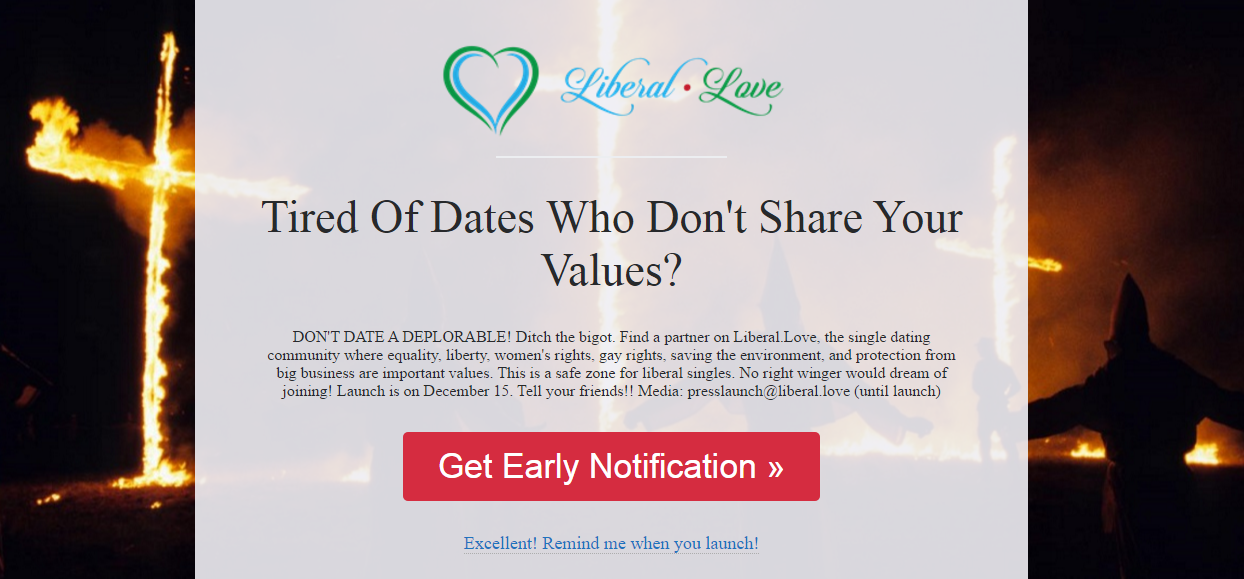 St. Johns
Watch out for our social media campaign post launch. We're planning to have a lot of fun with this theme.
That's the tagline of Liberal.Love, an online dating website with an agenda to create a separate community for political and social liberal singles. Liberal.Love launches on December 15 with a defiant campaign to protect liberal values and create a safe space for liberal singles to find love and friendship.

"The recent election season and the presidential election of Donald Trump have bolstered ultra conservatives. It seems to be becoming more acceptable to be racist, sexist, and xenophobic. We are building a liberal enclave where you'll know your partners share your values like equality, women's rights, gay marriage and protecting the environment. No conservative would dream of joining a community called Liberal.Love!" says Libby Love, virtual spokesperson.
It seems apparent to liberals that right wing conservatism is on the rise across the world. In the turmoil some singles have discovered that their partners have very different views on core social liberal values. Liberal.Love is telling single women that there are men that care and they can be found in a niche online dating community. Niche may be the wrong word for a grouping that by any estimate would be many millions. Liberalism is a philosophy that covers the planet and Liberal.Love is open to membership worldwide, currently in the English language.
The Liberal.Love online community has been built as a website with the url ending in .love, hence the way the name is written Liberal.Love or https://liberal.love . According to Libby Love the site was built as a traditional dating website to avoid 'app download fatigue'. The website is responsive and can be viewed on all devices.
Features on Liberal.Love include rich media profiles in which the person not only has a profile with photos but has an activities page to continue to add selfies, videos, music clips and posts. Members are encouraged to join and create Groups like Denver Hikers or Miami Dodger Fans. Groups create meetups in which single libs get together for an activity, without a right winger in sight. The meeting in groups is designed to help foster both friendship and love and create a real community of liberal singles, according to Libby Love. The community also has forums to discuss liberal, social, romance and relationship issues.
Security features include SSL encryption and firewalls. Credit card authentication is used to verify applicants are not scammers or spoilers. An annual fee of less than the cost of a meal is charged with no obligation to the member to renew the subscription. Fees are collected by PayPal and Liberal.Love does not collect credit card information.
Liberal.Love launches on December 15. You can sign up online for a reminder notification of the launch.
With Thanks,
Liberal.Love Team
Private/ Contact Area
Libby Love is our virtual spokesperson and will answer all emails at [email protected]. This email will be discontinued after launch. Thereafter please use the contact page. For security reasons we prefer some information is handled privately. We are not the story.
Libby Love, CBB Web Development, Hospital Hill, English Harbour, Antigua and Barbuda.
Interaction Chanel
Website: http://liberal.love
Twitter: https://twitter.com/liberaldotlove
Facebook: https://web.facebook.com/liberallove?_rdr