James.Games - Please consider our Game-Based Gamification Platform for review
Monday, November 19, 2018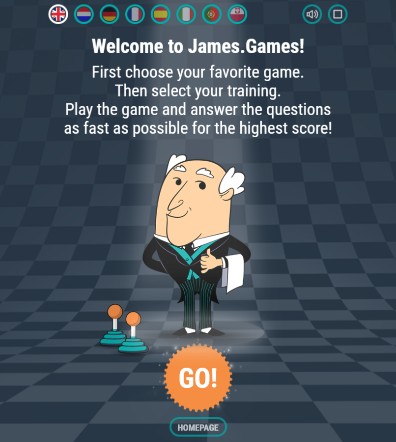 Gent - Belgium
I'm an IT entrepreneur and I know perfectly what drives customers and what challenges they face today. Customers appreciate my no-nonsense communication and my ability to explain something in human language. That's why I founded James.Games, a groundbreaking learning solution that increases significantly learner engagement and retention of content.
I hope you can consider our Game-Based Gamification Platform for review.
You can read more on my linkedin profile or on James.Games
JAMES.GAMES, THE WORLD'S MOST ENGAGING LEARNING PLATFORM LAUNCHES CROWDFUNDING CAMPAIGN ON INDIEGOGO
Maximum learners' engagement. Powered by games!
Gent november 19, 2018 – James.Games, a groundbreaking learning solution that increases significantly learner engagement and retention of content, today officially launched its crowdfunding campaign on Indiegogo.
James.Games training games are created in a matter of minutes by simply linking content to participants and setting the playing time. All the rest is done automatically, without technical skills or wasting valuable time and spending a lot of money.
James.Games is a great game-based gamification platform that can be used throughout the entire learning process. It is extremely useful for courses with regularly updated content or boring topics.
"Games are fun," said Yves Van Tongerloo, Co-founder and Chief Customer Happiness of James.Games. "and we have found a very efficient way to include them in the learning experience."
James.Games features include fast authoring, immediate feedback, real-time analytics and many built-in game mechanisms, such as points, badges and leader boards. The platform is accessible to learners everywhere in the world and delivers unlimited training games for all subscription plans.
Security awareness, sales training, product training, safety training, language training, compliance training, onboarding and customer service are just a few of the many pieces of training that can be delivered easily with James.Games.
"I've always found learning cumbersome and more unpleasant than it should be - from boring e-learning to tiring training workshops. The result was that you soon forgot everything," said Yves Van Tongerloo Co-founder and Chief Customer Happiness of James.Games. "i knew there had to be a better way, so we designed a learning platform to solve any motivation problem and give employees and students everything they need to achieve the best learning outcomes."
This makes the platform ideally suited for security awareness or compliance testing (think of the GDPR, for example). Dull subjects by nature. But also sales training and many others get a huge boost by all built-in game mechanics that stimulate competition and make learners more alert.
James.Games training games are suitable for every learner, simply because everyone loves games. Today there are 5 games available in 8 different languages and that number is supposed to grow rapidly through this crowdfunding campaign.
James.Games already has several satisfied customers and if you want to take advantage of a unique opportunity you can benefit from huge discounts through the crowdfunding campaign. These range from 30% to 50% or very advantageous fixed pricing on all subscriptions regardless of the number of learners.
For more information visit James.Games at Indiegogo or at www.james.games
About James.Games
James.Games is a Ghent-based startup focused on developing innovative game-based learning. Founded by Yves Van Tongerloo, a serial entrepreneur and seasoned IT business developer. James.Games wants to help learners all over the world with the launch of their Game-Based Learning Platform.
PR contact:
Yves Van Tongerloo
E-mail: [email protected]
Phone: +32 9 298 05 85
Interaction Chanel
Website: https://james.games/
Twitter: https://twitter.com/JamesGamesCorp
Facebook: https://www.facebook.com/james.games.corp